English
French
Portuguese
Spanish
commercial agreements in general
commercial law
distribution and franchise agreements
intellectual property law
media and new technologies
mergers and acquisitions (M&A)
Professional certification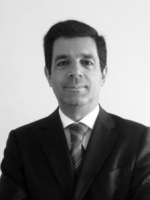 Education
2013 – Advanced PIDA Training – International Commercial Arbitration – ICC Paris;
2004 – 2005 – Graduate in International Trade Law (Contracts and International Arbitration);
1998 – Graduate in Accounting, Financial Analysis and Business Assessment at "Universidade Nova de Lisboa";
1988 – Law degree at Faculty of Law of Univeristy of Lisbon.
Professional career
2013 – (present) – Member of the Portuguese Panel of Arbitrators of the International Film and Television Alliance;
2013 – (present) – Arbitrator at "Arbitrare – Arbitration Centre" (lisbon, Portugal): ARBIRARE is a Portuguese institutionalized arbitration Centre, legally able to resolve disputes over industrial property (trademarks and patents), "PT" Domain names, trade names and corporate names as well as compulsory arbitration to resolve disputes over generic drugs (www.arbitrare.pt);
1990 – (present) – Lawyer;
1988 – 1990 – Trainee and Lawyer at Jardim, Sampaio, Magalhaes e Silva e Associados.
Arbitration experience
Sole arbitrator or member of the tribunal in domestic and international ad hoc arbitration proceedings;
Domestic and international arbitration proceedings, ad hoc and under the Rules of the Arbitration Centre of the Lisbon District Council of the Portuguese Bar Association (mainly commercial, corporate and IP law).
Membership in organizations
Professional License no 8830L Portuguese Bar Association (since 1990);
Member of "APA" Portuguese Arbitration Association;
Member of the London Court of International Association European Users' Council;
Member of International Bar Association;
Member of the ICCA – International Council for Commercial Arbitration;
Member of the International Arbitration Institute – Paris;
Member of ASA – Swiss Arbitration Association.
Publications
'Motivation of arbitral awards: a few notes' – Young Arbitration Review, July 2013, on-line edition (www.yar.com.pl); Portuguese version published in Rev. Arb. Med., Vol. 10, No. 39. At 155 (2013);
'Arbitrability of disputes in computer program rights under the Portuguese Law: General Overview' – under publication;
'Asymmetrical arbitration clause under the Portuguese Law' – Young Arbitration Review, October 2013, on-line edition (www.yar.com.pl);
'The New York Convention on the Recognition and Enforcement of Foreign Arbitral Awards 1958 in the Portuguese Case Law' – forthcoming;
The Extension of Arbitration Agreements in Group of Companies and Assignment of Debts: A "Glimpse" of Connectivity – under publication;
Contributor, New York Convention Guide Project (www.newyorkconvention1958.org).