commercial agreements in general
company law
finance, banking
mass media and advertising
Professional certification
adwokat, partner kancelarii prawnej Lex Torre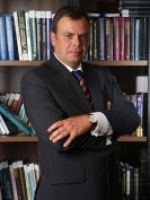 Education
Belarusian State University, Law Faculty;
Central European University (Budapest, Hungary, 1999). Course «Review of International Disputes in the WTO and international commercial arbitration»;
Karl-Franzens University Graz (Graz, Austria, 1999). Probation within the program Tempus;
Friedrich-Alexandre-University Erlangen-Nürnberg (Erlangen, Germany, 2000 – 2001). Probation within the program Tempus;
ICC Advanced Arbitration Academy Course 2011-2013.
Professional career
Practice since 1993;
Senior Lecturer of Civil Law department of the Law Faculty of the Belarusian State University on "Civil Law", "Civil and commercial law of foreign countries" courses;
Partner of «Sysouev, Bondar, Khrapoutski SBH» law office;
MCIArb;
Since May 2019 Partner of Lex Torre Law Office.
Arbitration experience
Arbitrator of the International Arbitration Court at Belarusian CCI;
Co-arbitrator of the International Court of Arbitration of the International Chamber of Commerce (Paris, 2006);
Co-arbitrator in Arbitration Institute of the Stockholm Chamber of Commerce (Stockholm, 2014).
Membership in organizations
Member of the Board of the Russian Arbitration Association;
Additional activities:
Participation in project on legal opinion for the World Bank on legislation development of land regulation in ex – USSR countries (Rural Development Institute (Seattle, USA, 1997);
Participation as an expert in number of surveys of Doing Business of the World Bank and International Monetary Fund (since 2004 to the present day).
Publications
Co-author of Commentary on the Civil Code of the Republic of Belarus, manuals and teaching materials, the author of numerous publications in the field of business activity.