commercial agreements in general
company law
distribution and franchise agreements
finance, banking
labor law, management contracts
mergers and acquisitions (M&A)
real estate, construction
Professional certification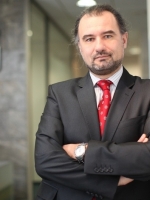 Education
University degree, Jagiellonian University Krakow,  Faculty of Law
Professional career
2011 – currently: Zacharzewski &Partners Law Office, Krakow, Managing Partner;
2013 – currently: Prawo i Księgowość Sp. z o.o., Kraków, shareholder;
2008 – currently: Warmtrade.com Ltd Hong Kong, Poland Area Representaive;
1996 – 2011: Nikiel & Zacharzewski Law Office, Krakow, Partner;
2005 – 2012: Tischner European University , Krakow, Lecturer – Labour Law;
2000 – 2002: PCI SA, Krakow, Member of the Supervisory Board.
Arbitration experience
2000 – currently. Arbitrator in Arbitration Court, Krakow Chamber of Commerce.  Ruled on more than 60 cases,  mostly on international commercial turnover;
2012 – currently. Arbitrator in Arbitration Court at the Polish Bank Association. Ruled on two cases on financial Instruments;
2015 –currently. Mediator in Arbitration and Mediation Center, Krakow
 Formerly, amongst others:
Represented Banks in arbitration on financial instruments (eight cases);
Organised Mediation Center at Warmtrade.com. Ltd;
Attended as and speaker and moderator in numerous conferences on arbitration.
Membership in organizations
Polish Bar Association;
American Academy Alumni Association (Dallas, Texas);
Krakow Chamber of Commerce;
Polish – Chinese Chamber of Commerce.
Publications
"Banki wygrywają z przedsiębiorcami  procesy o opcje walutowe"; Rzeczpospolita, 23.12.2010;
"Nadużycie  gwarancji  bankowej przez jej beneficjenta", Prawo Bankowe, 2006/11/37;
"Outplacement"; Agnieszka Flis, Marek Mos, Andrzej Zacharzewski, Krakow,  co. 2002 ISBN 83-7287-014-4;
"Przekształcenia spółek cywilnych w spółki handlowe – tryb i konsekwencje dla banku", Prawo Bankowe, 2001/7-8/53;
"Akredytywa dokumentowa jako praktyczny instrument płatniczy w obrocie międzybankowym" Palestra 1997/1-2/55;
"Adwokaci Generalni – ich rola i miejsce w strukturze Trybunału Sprawiedliwości  Unii Europejskiej w Luksemburgu", Palestra 1994/3-4/123.