commercial agreements in general
energy law
infrastructural projects
mergers and acquisitions (M&A)
real estate, construction
Professional certification
Adwokat w Austrii (Rechtsanwalt); Solicitor w Anglii i Walii; Euroadwokat w Republice Czeskiej i Republice Słowacji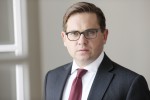 Education
2000: Bar examination (with distinction), Vienna Bar Association;
2000-2001: Master of Laws (International Business Law), University of London – King's College;
1999-2001: PhD in Law (Doctor Iuris), University of Vienna – Law School;
1998-1999: Clerkships, various courts in Vienna (District Court Josefstadt, Labour and Social-Security Court, Commercial Court);
1991-1997: Master of Jurisprudence (Magister Iuris), University of Vienna – Law School.
Professional career
2009: Founding Partner of Konrad & Partners – Attorneys at law (Vienna, Bratislava, Skopje, Prague, London);
2006-2009: Counsel, Freshfields Bruckhaus Deringer LLP (London and Vienna), International Arbitration Group;
2001-2005: Senior Associate, Austrian Advocates Alliance (Vienna), Department of International Dispute Resolution;
1994-2000: General Counsel, Constructa Bau GmbH – Real Estate Developing and Construction     Company Ltd (Vienna);
1996-2000: Senior Consultant, Ing. Egon Probst Immobilien GmbH – Broker's Agency (Vienna);
1991-1993: Employee, Allgemeine Beteiligungs- und Handels GmbH – Trading and Investment House (Manila and Vienna), Accountancy.
Arbitration experience
Christian W. Konrad focuses on complex multi-jurisdictional disputes. He has extensive experience with arbitral practice, procedure and advocacy both in civil and common law systems and has represented international organisations and businesses in a broad range of disputes over subjects including long-term energy contracts, complex construction contracts, concession agreements, insurance claims, entitlements to natural resources, immunity from jurisdiction, infrastructure projects, as well as mergers and acquisitions.
He frequently acts as arbitrator and chairman of tribunals in ad-hoc arbitrations and before major arbitral institutions (including ICC, LCIA and VIAC), at multiple seats and governed by a broad variety of substantive and procedural laws.
Membership in organizations
Chartered Institute of Arbitrators (Fellow),
The Worshipful Company of Arbitrators (Freeman),
London Court of International Arbitration,
London Arbitration Club,
Austrian Arbitration Association,
Founding Chairman of the Young Austrian Arbitration Practitioners (YAAP),
Swiss Arbitration Association (ASA),
Deutsche Institution für Schiedsgerichtsbarkeit (DIS),
Society of Advanced Legal Studies (University of London),
International Fiscal Association,
International Association for Contract and Commercial Managers (IACCM),
Juristenverband Vienna.
Publications
Unchartered Waters – the Protection of Foreign Energy Investments in CEE", Issue 2, Commercial Dispute Resolution News 2013
"Investment Treaty Arbitration Overview – Austria", Global Arbitration Review 2012
"Schiedsverfahrensrecht", Liebscher/Oberhammer/Rechberger, Springer Verlag 2011
"The International Comparative Legal Guide to International Arbitration 2011, Austria", 8th Edition, Global Legal Group 2011
"Investment Arbitration in the CEE Region", Issue 5, Commercial Dispute Resolution News 2011
"The Vienna Rules – A Commentary on International Arbitration in Austria", Kluwer Law International 2009 (co-author).