English
French
German
Portuguese
Spanish
commercial agreements in general
company law
competition
distribution and franchise agreements
energy law
infrastructural projects
labor law, management contracts
media and new technologies
mergers and acquisitions (M&A)
pharmaceutical law
real estate, construction
transport
Professional certification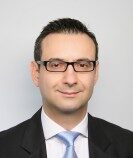 Education
LL.M., New York University, 1995;
J.D. in corporate law (Maîtrise en Droit des Affaires), University of Paris-X, 1994; Master in English and American legal studies (Diplôme d'Études Juridiques Appliquées en Droit Anglo-Américain), University of Paris-X, 1994.
Professional career
Founder of Castineira (with offices in Paris, France, and Berlin, Germany), created in February 2010ł 
Counsel to the ICC International Court of Arbitration, Paris, France (2002-2010)ł 
Attorney, Freshfields Bruckhaus Deringer, Paris, France (2001-2002); 
Attorney, Andersen Legal, Paris, France (1996-2001), including secondments to a premier foreign law firm and one of the firm's largest and most important clients;
Experience both in corporate, transactional matters and dispute resolution.
Arbitration experience
Has spent almost 100% of his time on arbitration matters since 2002.  Has served as arbitrator (sole arbitrator, co-arbitrator and chairman) and party counsel in both institutional (including ICC) and ad hoc (including UNCITRAL) cases. Has experience in arbitration-related state court proceedings (enforcement and challenge of awards, interim measures).
Gave numerous conferences and trainings on international arbitration matters to arbitration professionals, judges and in-house counsel.
Taught international arbitration at various universities in English, French and Spanish, including University of Paris II-Assas, France (2003-2009, 2012), University of Versailles, Saint-Quentin, France (2006-2008), Queen's University, Ontario, Canada (2006-2010), University of Monterrey, Monterrey, Mexico (2011).
Membership in organizations
Member of various arbitration institutions, including AFA (Association Française d'Arbitrage, Paris, France);
CEPANI (Centre Belge d'Arbitrage et de Médiation, Brussels, Belgium);
Chambre Franco-Allemande de Commerce et d'Industrie (Paris, France); 
Club Español de Arbitraje (Madrid, Spain);
CIARB (Chartered Institute of Arbitrators, London, U.K.);
CPR (International Institute for Conflict Prevention and Resolution, N.Y.C., N.Y., U.S.A.);
ICC (International Chamber of Commerce, Paris, France, including the ICC Commission on Arbitration, ICC France, ICC Latin American Arbitration Group);
LCIA (the London Court of International Arbitration, London, U.K.).
Publications
"The Language of the Arbitration: Reflections on the Selection of Arbitrators and Procedural Efficiency", ICC International Court of Arbitration Bulletin, Vol. 17/No. 1, 2006, p. 33-42 (co-author; published in French and English);
"The Role of the ICC International Court of Arbitration in Determining the Parties to an ICC Arbitration", Croatian Arbitration Yearbook, Vol. 13, 2006, p. 223-228;
"L'expérience transnationale de la CCI au regard des systèmes de droits procéduraux", Paris Place de Droit, 2006, p. 199-210;
"Colloque de Francarbi sur l'éthique dans l'arbitrage – Compte rendu", Revue de l'arbitrage, Vol. 1, 2012, p. 225-232;
"The Emergency Arbitrator in the 2012 ICC Rules of Arbitration", The Paris Journal of International Arbitration, Vol. 1, 2012, p. 65-98;
"Quién tiene competencia para otorgar medidas cautelares en un arbitraje internacional: Situación actual y aspectos del futuro", Arbitraje internacional: Pasado, presente y futuro, Libro Homenaje a Bernardo Cremades e Yves Derains, Vol. II, Instituto Peruano de Arbitraje, 2013, p. 817-843.