commercial agreements in general
company law
competition
mergers and acquisitions (M&A)
Professional certification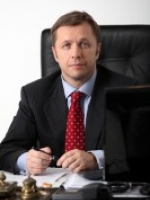 Education
Warsaw University, Law Faculty, 1982-1989;
The Circuit Chamber of Legal Counsel in Warsaw, 1992-1993;
National School of Judiciary and Public Prosecution, 1989 – 1991.
Professional career
Founder of Chałas & Partner Law Firm. Specialises in M&A transactions, restructuring and commercial contracts. Adviser and transactor of large-scale privatisation projects of domestic key enterprises.
Adviser to companies and capital groups on restructuring and investments projects.
A member of management of a number of companies as, in particular, President of a Supervisory Board of Messenger Service Stolica SA (now UPS Polska Sp. z o.o.), a member of a Supervisory Board of Mostostal Zabrze Holding SA, and TVP S.A.,
President Deputy of Radomska Wytwórnia Telekomunikacyjna SA A coordinator in Poland by Zumpano, Patricios & Winker, international law firms network.
One of the most frequently cited expert by leading media in Poland.
Arbitration experience
Arbitrator of the Polish Confederation Lewiatan Lewiatan Court of Arbitration, Arbitrator of the Arbitration Court at the Cracow Chamber of Commerce and Industry, Independent Expert of the Consulting Engineers Association (SIDiR)
Membership in organizations
A member of the Management Board of Baltic Business Forum, a member of the Board of the Polish-Ukrainian Chamber of Commerce; Business Centre Club expert on business law.
Publications
21.12.2010 – Puls Biznesu – Tempo zabija jakość (Jarosław Chałas);
01.04.2011 – Businessman.pl – Spółki obywatelskiej aktywności (Jarosław Chałas);
01.04.2012 – Gentelman – Szanuj klienta swego jak siebie samego (Jarosław Chałas);
16.03.2012 – Dziennik Gazeta Prawna – Akcjonariusz nie musi wszystkimi akcjami głosować tak samo (Jarosław Chałas);
02.03.2012 – Dziennik Gazeta Prawna – Akcjonariuszom trzeba udostępnić informacje o spółce (Jarosław Chałas);
07.10.2014 – Puls Biznesu – Sposoby na embargo (Jarosław Chałas);
10.10.2014 – Gazeta Finansowa – Dlaczego wciąż warto prowadzić biznes ze Wschodem? (Jarosław Chałas).