Krzysztof Wierzbowski
Członek Komitetu Honorowego
commercial agreements in general
company law
competition
infrastructural projects
media and new technologies
mergers and acquisitions (M&A)
real estate, construction
transport
Professional certification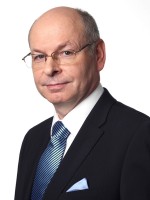 Education
Professional career
1997-present Managing Partner of Wierzbowski Eversheds – in the years
1997-2005 the law firm was associated with PricewaterhouseCoopers, and since 2005 roku it has been a member of Eversheds International;
1996-1997 Partner in Baker & McKenzie (after its merger with Dickinson, Wright Sp. z o.o.);
1991-1996 Partner in Dickinson, Wright, Moon, Van Dusen & Freeman, a Michigan law firm; Managing Partner of Dickinson, Wright, Moon, Van Dusen & Freeman Sp. z o.o. – the Warsaw office of the firm;
1988-1991 Agencja Adwokacka IUS Sp. z o.o., founder of one of the first private law firms in Poland;
1983-1988 practiced law at Zespół Adwokacki Nr 19 in Warsaw.
Arbitration experience
He has been involved in various litigation matters in Poland since 1983, including an international arbitration proceedings under the bilateral treaty between the US and Poland on the protection of investment, relating to an investment between an American investor and the Republic of Poland.
He participated in numerous international proceedings concerning a trade mark protection; represented foreign investors in series of arbitration matters before the Arbitration Court at the National Chamber of Commerce in Warsaw; represented the Polish State Treasury in an arbitration matter in Paris under ICC Rules regarding infrastructure project in Poland, and a major Polish company in arbitration in New York in an IT related matter.
He has an extensive experience in telecommunications matters. He represented clients from the telecommunications sector in numerous regulatory and competition disputes, in administrative and litigation matters.
He successfully represented clients before the Office for the Protection of Competition and Consumers, the Telecommunications Regulatory Authority, Court for the Protection of Competition and Consumers and Supreme Court in precedent antimonopoly and regulatory cases which received broad coverage in the press.
Membership in organizations
Member of the Warsaw Bar Association
Member of the International Bar Association
Publications
Co-author of an article of an article on companies of the State Treasury, Rzeczpospolita, 4.04.2007;
Contribution to Doing Business in 2006: Creating Jobs, the World Bank and the International Finance Corporation; co-author of chapters on Poland in Mergers & Acquisitions 2004/05, Global Counsel Handbook;
Mergers & Acquisitions 2004, 2005, International Financial Law Review;
Telecoms & Media 2005, 2006, 2007 Getting the Deal Through, Global Competition Review;
Utility Regulations in Poland, Privatisation International, vol. 3/2000.