commercial agreements in general
company law
finance, banking
infrastructural projects
mergers and acquisitions (M&A)
Professional certification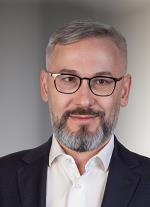 Education
2009, The Prince of Wales's BEP, University of Cambridge Programme for Sustainability Leadership, Senior Executive Seminar, Brussels;
2006-2007, LL.M. in International Trade and Business Law, School of Law, Universidade Católica Portuguesa in partnership with Fulbright Commission, Lisbon, scholarship of Fundação Millennium BCP;
2004-2005, Postgraduate, Negotiation and Mediation, Warsaw School of Social Psychology;
1992-1997, Master of Law (summa cum laude);
School of Law and Administration, Warsaw University;
1995-1996, English and European Union Law, Certificate with Merit, BCEEUS, University of Cambridge in cooperation with Warsaw University.
Professional career
2009-present, Partner, FKA FURTEK KOMOSA ALEKSANDROWICZ, www.fka.pl, Head of Financial Institutions/Restructuring and New Technologies/IP;
2004-2008, Partner, M.FURTEK I WSPÓLNICY, previously 2000-2004, Associate;
1997-2000, Lawyer, FURTEK PALINKA ZIELIńSKI, a law firm associated with KPMG Poland;
1996-1997, Legal Assistant, POLKOMTEL, a mobile telecom operator, Legal Department.
Arbitration experience
Leszek Rydzewski has represented and been a member of the team assisting the Firm's clients in several arbitrations, among others, he represented a telecom operator in the arbitration initiated by a shareholder against other shareholders and the company that took place in Vienna, according to the VIAC Rules, as well as one of the banks before the Arbitration Court at the Polish Bank Association in a dispute related to the foreign exchange derivatives.
Membership in organizations
Warsaw Bar Chamber;
International Bar Association.
Publications
Co-author of chapters about Poland, 2006-07 and 2008-09 editions of Finance: Secured Lending, published by Practical Law Company in PLCCross-border Handbooks series.