Małgorzata Pietrzak-Paciorek
Małgorzata Pietrzak-Paciorek
commercial agreements in general
company law
infrastructural projects
real estate, construction
Professional certification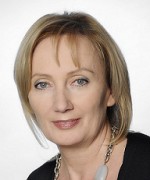 Education
Graduated from the Faculty of Law at Warsaw University in 1980
In 1982 passed her judicial exam in the Provincial Court in Warsaw
In 1985 qualified as an attorney
Professional career
Since 07.2006 she has been a principal in Baker & McKenzie law firm. Before that date, from 08.2003 she was a partner in that firm. She is the head of the Real Estate practice in Baker & McKenzie's Warsaw office;
In the period between 06.1997 – 06.2003 she was a partner in the Real Estate practice of Cameron McKenna;
Between 1994 – 05.1997 she worked for Baker & McKenzie;
In the years 1992-1994 she ran her own legal practice;
In the years 1986-1992 she was a member of a Legal Partnership specializing in advising foreign entities. 
Arbitration experience
Representing parties before ICC and KIG Arbitration Courts in commercial, corporate, construction and real estate disputes.
Membership in organizations
Małgorzata Pietrzak-Paciorek has been a member of the Polish Bar of Advocates since 1986;
She is also a member of Polish Council of Shopping Centres and a member of Polish Arbitration Association.
Publications
"Gaining Interest" (re. zoning plans) – The Warsaw Voice, October 2005;
"Urban Planning – New Opportunities" – The Warsaw Voice, February 2005;
"New Aspects of the Warranty" – Eurobuild, March 2004;
"Warranties in Construction Agreements" – Eurobuild, January 2003.