commercial agreements in general
company law
distribution and franchise agreements
finance, banking
infrastructural projects
labor law, management contracts
mergers and acquisitions (M&A)
real estate, construction
Professional certification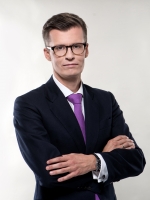 Education
1999 – LL.M. in International Business Law, Central European University in Budapest;
1999 – Brigham Young University, Provo, Utah;
1998 – Master of Law, University of Silesia.
Professional career
2014 to date – Kocur & Partners;
2007 – 2014 – Woźniak Kocur;
2005 – 2006 – Gide Loyrette Nouel;
1999 – 2005 – Allen & Overy.
Arbitration experience
Michał Kocur acts as a counsel and sits as an arbitrator both in domestic and international arbitration cases concerning commercial issues, real estate and construction law, as well as in disputes arising from M&A transactions.
Publications
Mortgage and Fraudulent Conveyance (Rzeczpospolita, 30 October 2010);
The Lawmaker Should Not Ignore the Decision of the Constitutional Tribunal (Monitor Prawniczy no. 2/2010);
Interim Measures of Protection in Arbitration Proceedings (Monitor Prawniczy  no. 15/2006);
The Trouble with the Challenging Resolutions (Rzeczpospolita, 18 July 2005);
Power of Attorney for Members of the Management Board. Polemics. (Prawo Spółek no. 12/2004).