Canadian
English
French
Hindi
Malay
Mandarin/Cantonese
Spanish
Tamil
antimonopoly law
company law
competition
intellectual property law
Professional certification
Arbiter/biegły sądowy w sprawach finansowych, morskich i ISDS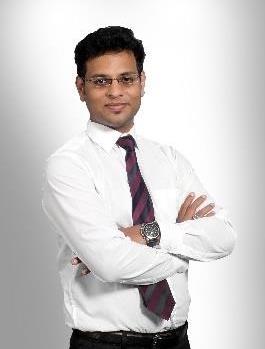 Education
Doctorate of Philosophy (Finance), United States of America – 2020, A Grade,  Recipient of President's Award for Doctoral Thesis;
Chartered Accountant, Institute of Chartered Accountants of India -2009, Top Percentile, Recognised by President of ICAI for being one of the only 2 Candidates to clear the exam;
CIMA (UK)- non UK resident pending membership, Chartered Institute of Management Accounts -United Kingdom -2009, India topper for all levels, Recipient of Extraordinary Alumnus;
Bachelors of  Commerce, Christ College – Bengaluru, A grade, Distinguished alumni awardee.
Additional:  
PG Diploma in Arbitration from National Law University, Delhi, India  
PG Diploma in Maritime Law (Feb 2021), Gujarat Maritime University  
3PG Diploma in International Affairs & Diplomacy (2021) 
ASEAN Investment Law Programme- Singapore Academy of Law (one of the only 12 Professors from Asia to be selected) 
Professional career
TVS Raghavan & Co-  Mumbai, Research Assistant – Income Tax & Service Tax, June 2007- June 2010, Research of Income tax cases, Assistance to senior counsel for appearance before ITAT, CBDT, Assisted in representation of more than 15 cases before ITAT;
Citibank NA- Mumbai, Assistant Manager (AVP grade) – Treasury Instruments, June 2010-June 2011, Reviewed the entire legal confirmation for clients and assisted the General Counsel in drafting, Implemented 7 automation and innovation projects;
Chakra Consulting, Chief Financial Officer,  June 2011-May 2015, Instrumental in drafting settlement letters for disputes in company matters. Settlement of Income Tax disputes. Advise on Company Law matters, Recommendation letters from clients available;  
Chakra Venture, Partners LLP, Principal Partner, May 2015- Present, Acted as the sole arbitrator for various family wealth disputes (Wealth of 2000 Cr upwards) for 6 (Six) Families in real estate and finance. Settlement of INR 54 Crores between the founders before appearance vide arbitration agreement between parties for a technology company. Drafting of more than 60 term sheets in a manner amicable to both parties. Recommendation letters from clients available. 
Membership in organizations
Empaneled Arbitrator: Indian Dispute Resolution Council;
Member: Indian Council of Arbitration (ICA), Maritime Cluster (Only Maritime Cluster in India);
Empaneled Mentor:

Ministry of Information Technology, Government of India,
Member, National Productivity Council, Government of India,
Mentor, Niti Aayog (Government of India);

Empaneled Arbitrator:

High Court of Jammu & Kashmir International
HC of Madhya Pradesh, International Arbitral Institutions
Panel, Delos ADR Network
Arbitrator, GCCAC- Gulf
Caspian Arbitration Society,
Primary Panel, Maldives International Arbitration Centre,
Member, Association of Swiss Arbitrators,
Panel, Vienna International Arbitration Centre,
Panel, Pacific International Arbitration Centre,
Member, European Court of Arbitrage,
Panel, International Arbitration Court,
Panel, Mauritius International Arbitration Center,
Panel, Qatar Arbitration Court,
Supporting Member, HKPAG,
Supporting Member (Inclusion in Panel)- LMAA (London).

Certified Arbitrator- Indian Institute of Arbitration & Mediation;
Certified Independent Director – Indian Institute of Corporate Affairs (Ministry of Corporate Affairs, Government of India) – Membership Number IDDB-NR-202008-030913;
Visiting Professor of Finance & Valuation – Top Business Schools -Indian Institute of Management (IIM), SP Jain School of Management etc. (India & Abroad).