antimonopoly law
commercial agreements in general
company law
infrastructural projects
mergers and acquisitions (M&A)
real estate, construction
Professional certification
Legal Counsel, Solicitor of England and Wales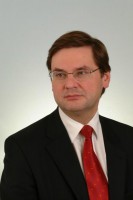 Education
2003: Wharton Advanced Management Program Wharton Business School, University of Pennsylvania;
2003: Post Graduate Diploma in EC Competition Law Kings College, School of Law, University of London;
1989: MA in Economic Sciences Foreign Trade Department, Central School of Planning and Statistics, (now Warsaw Economic University);
1987: LL.M in International Law, Law Department, University of Warsaw.
Professional career
1994 – now: Przemyslaw P. Krzywosz Kancelaria Prawna (Law Office) – Partner – M&A & Corporate Finance, Construction Law including contracts based on FIDIC, Civil Law, Competition Law;
1995 – 1999: Coopers & Lybrand, PricewaterhouseCoopers – Director;
1994 – 1995: Clifford Chance Poland – Lawyer;
1991 – 1994: Creditanstalt Financial Advisers – Member of the Board;
1990 – 1991: Pricewaterhouse Poland – Consultant.
Arbitration experience
22 arbitration cases ("Lewiatan" & KIG Court of Arbitration in Warsaw & ICC & Ad hoc) out of which: (i) 10 performed as a chairman, 4 – as a sole arbitrator, 8 – as a co-arbitrator; (ii) 7 based on FIDIC, 3 – M&A, 12 – Contract disputes, including 2 – Construction Contracts; and (iii) 6 International cases and 16 Polish.
Membership in organizations
International Bar Association,
OIRP Warsaw;
The Law Society of England and Wales;
Court of Arbitration at the Polish Chamber of Commerce,
ICC Poland;
LCIA; 
AAA-ICDR;
DIS;
ASA;
Court of Arbitration at the Czech Chamber of Commerce;
VIAC;
DIAC;
SIDiR.