English
German
Polish
Portuguese
Spanish
włoski
bankruptcy and restructuring proceedings
commercial agreements in general
company law
competition
finance, banking
mergers and acquisitions (M&A)
real estate, construction
Professional certification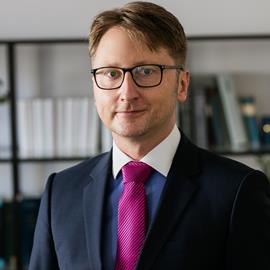 Education
17.04.2018: Ph.D at the Adam Mickiewicz University in Poznań, Faculty of Law and Administration, Chair of Civil Commercial and Insurance Law, under the tutoring of Prof. T.Sójka ( specialization: Company and Commercial Law);
10.2016-10.2017: Accountancy and Corporate Finance – postgraduate studies at Warsaw School of Economics (Szkoła Główna Handlowa) in Warsaw;
05.2008-present: Admission to the Bar of Legal Advisors (District Chamber: Warsaw);
04.2005-05.2006: Postgraduate studies in Real Estate Evaluation under the tutoring of Prof. A. Hopfer;
2002: Master of Law (University of Szczecin; specialization: Commercial Law).
Professional career
2012 – present: Legal advisor solo practice in Warsaw;
03.2020 – present: Commercial Law lecturer at the University of Economics and Human Sciences in Warsaw (English-language studies);
11. 2014 – present: Of counsel at SMML Legal in Warsaw (former: Sójka, Maciak, Mataczyński Law Firm);
05.2011 – present: Lecturer at Warsaw District Bar of Legal Advisors (Company Law course for legal trainees).
Arbitration experience
Acting on behalf of parties in numerous arbitration proceedings.
Membership in organizations
Member of the Bar of Legal Advisors (District Chamber: Warsaw)
Publications
Commentary editor on "Limited partnership. Commentary on Commercial Companies Code (with focus on strutures" sp. z o.o. sp.k, P.S.A. sp.k. oraz sp.j. sp.k.)" with M. Asłanowicz, A.Borys, I.Gil, S.Hońko, J. Jerzmanowski, K. Kleszczewski, D. Kupryjańczyk, W. Majkowski, P. Szala, R.Szyszko, D. Wójtowicz. 2021, Warsaw;
"Shareholders' agreements, investment agreements, joint- venture agreement and other subtypes of the civil partnership agreement – remedies in case of breach thereof by party". 2019, Warsaw;
"Limited joint-stock partnership with limited liability company as the sole general partner" 2011, Warsaw;
M. Gutowski Commentary on the Civil Code. Second volume. Commentary on articles art. 450-1088. 2019, Warsaw 2016, C.H.Beck. Co-Author of commentary on the civil law partnership regulations;
"Advance dividend payments at limited liability company" (part one Monitor Prawniczy 15/2019, part two Monitor Prawniczy 16/2019, part three Monitor Prawniczy 17/2019);
Insolvency of commercial company pursuant to the regulations of article 11 section 2-5 of Insolvency Law – interpretation taking into account the regulations of the Accounting Law Act. 2019 Warsaw.