commercial agreements in general
company law
distribution and franchise agreements
energy law
finance, banking
infrastructural projects
mergers and acquisitions (M&A)
real estate, construction
Professional certification
adwokat (Michigan, USA). Wpisany na listę prawników zagranicznych przy Okręgowej Radzie Adwokackiej w Warszawie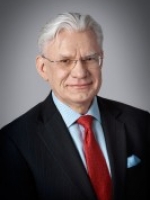 Education
University of Detroit, Law School, Juris Doctor 1982;
Uniwersytet Mikołaja Kopernika, magister administracji publicznej (1976) i magister prawa (1978).
Professional career
Weil, Gotshal & Manges – partner od 1999 rok.
Arbitration experience
Arbiter w Sądzie Arbitrażowym przy KIG, Sądzie Arbitrażowym Lewiatan, Prezes Centrum Mediacji Lewiatan,
udział w licznych postępowaniach arbitrażowych jako arbiter, przewodniczący składu i jako pełnomocnik strony.
Membership in organizations
Michigan Bar;
Amerykańska Izba Handlowa w Polsce;
American Bar Association, Stowarzyszenie Prawników Zagranicznych;
Adwokatura Warszawska.
Publications
Artykuły dot. mediacji, publikacje dot. prawa w Polsce, Law Review University of Detroit.