antimonopoly law
company law
competition
intellectual property law
Professional certification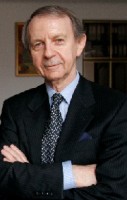 Education
Professional career
Visiting Professor Pennsylvania Law School
College of Europe
Max Planck Institute
Publications
Choice of Law and Choice of Forum i Transnational Transfer of Technology Transactions, Recueil des Cours (Dordrecht-Boston, 1986);
Dispute Resolutions in Technology Transactions, Korean Forum on International Trade, 1992, vol. 1, s. 367-413;
Solution de Conflictos en Transactiones Internationale, Derecho, vol. 47, s. 141-162 (Lima 1993);
Arbitration Law in States After Fundamental Changes, ICCA Congress Series No. 7, Hague 1996, s. 518-523;
Judgement by SVEA Court of Appeal in case T-8735/01, The CME v. Czech Republic, Stockholm Arbitration Report 2004, s. 215-242 (współautor M. Olechowski).