antimonopoly law
intellectual property law
media and new technologies
Professional certification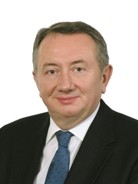 Education
Master's of Law, the Silesian University in Katowice, School of Law, 1975;
Postgraduate studies in Industrial Ownership Rights at Jagiellonian University, Cracow, 2000.
Professional career
Mr. Tadeusz Piątek is a lawyer with over 20 years experience in providing legal advice related to the telecommunication sector, and specializes in issues in the area of IT implementation systems, intellectual property law, the Internet, e-commerce and data protection in electronic networks.
Mr. Piątek gained his professional experience as a representative of both investors and suppliers in many transactions and disputes in the telecom and IT sectors, involving Polska Telefonia Cyfrowa, Telekomunikacja Polska, TP Emitel, AT&T / Lucent, Alcatel, UNISYS, T-Systems, Clearwire Corporation, Telefonia Dialog, Netia, Exatel and Sagem.
Mr. Piątek is currently of Counsel at White & Case Warsaw office. From 2002-2005, he was the head of the legal department of the Office of Electronic Communications (formerly the Office of Telecommunications and Post Regulation).
Between 1997 and 2000, Mr. Piątek was the head of the IT & Telecom Practice at Allen & Overy Warsaw.
Between 1993 and 1997, he worked for Nabarro Nathanson Warsaw office.
Between 1985 and 1992, he was a legal advisor for the Telecommunication Office of Elektrim S.A.
Arbitration experience
Many years of experience in the area of international arbitration
Arbitrator of the International Arbitration Center at the Austrian Federal Chamber of Commerce in Vienna
Arbitrator of the Court of Arbitration of the Polish Confederation of Private Employers "Lewiatan"
Membership in organizations
Chamber of Legal Advisors in Warsaw